THE DOMINION
San Antonio, Texas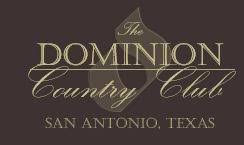 The Dominion is one of the most exclusive and prestigious, master-planned country club communities in the Hill Country and is composed of approximately 1500 acres located in the fastest growing northwest quadrant of San Antonio; making it one of the largest Homeowners' Association managed communities in Texas. Many local and national celebrities choose to call The Dominion home. Not to be restricted to one type of building preference, the community offers home sites ranging from garden homes to acreage estates. Bordered by Leon Springs Creek, the development has abundant green belts and man-made lakes, creating a cool lush backdrop for family living.
A safe family environment is made possible by two, 24-hour and one, 12-hour manned and gated security stations which are further enhanced by professional guards conducting round-the-clock mobile patrols.
Fire and EMS protection is provided by the city and is located directly across the Interstate from the entrance. Additional neighborhood amenities include a world-class country club featuring an aquatic center, tennis courts, club house, and golf course. The Dominion Country Club, which has played host to a Senior PGA tour for 17 years, offers a carefully designed world-class golf course that complements the land's graceful contours.
Both of the new shopping malls, The Rim and La Cantera Mall, are within 7 miles of the neighborhood allowing The Dominion to represent the very best of two worlds. Within its boundaries there lies a private world of unmatched luxury living with a country club at your doorstep, and yet you are always within easy reach via IH10 of the metropolitan offerings of the city of San Antonio.